Peapod is a great grocery delivery service that I recently got to try out. I went online and found out how easy it was to shop. Peapod offers the convenience of online ordering and home delivery of your groceries.
Peapod has actual shoppers that hand select fresh items such as meat and produce, so you don't have to worry about the quality and freshness of your food. What a time saver, too! It took me just about 30 minutes to go online and place my order. I did not have to waste my time and gas going out to the grocery store.
If you are lucky enough to live in one of these delivery areas, you can try out Peapod for yourself:
Chicagoland, Milwaukee, S.E. Wisconsin, Indianapolis

Connecticut, Massachusetts, Rhode Island, Southern New Hampshire

New York, New Jersey

Maryland, Virginia, Washington D.C.

Philadelphia, S.E. Pennsylvania, Central Pennsylvania
Peapod will accept manufacturer's coupons and will double coupons up to 99 cents! There are not too many places you can order online and still use coupons to save money! There are also exclusive online savings that you will see as you shop, and the discount is applied in your cart. You don't have to put any effort into that at all, and you still save money.
I ordered Pasta, yogurt, cereal and even steak! There are many selections for organic or gluten-free items, which is nice.
My delivery came when I expected it to. My cold items were cold, and my order came packaged nicely in Peapod bags.  The delivery driver was super friendly and explained to me the entire process and even the history of Peapod.
There is a great deal right now for new users: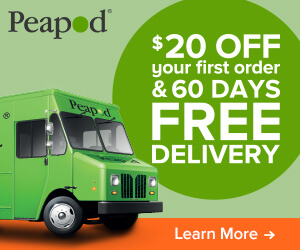 You will get
$20 off your first order

Free delivery for 60 days

Expires: 6/30/16

Code: DP20FD
I was very impressed with the ease of ordering, delivery, and the food quality. I am so glad I discovered Peapod!
Give Peapod a try, and I'm sure you'll love it, too!
*This post is sponsored by Savings.com*